Gum Disease Treatment
Gum Disease Treatment may include simple oral hygiene to eliminate gingivitis. We provide Oral DNA salivary testing which identifies the specific type of bacteria that are known to cause periodontal disease. This provides better risk assessment and personalized treatment options for more predictable outcomes.
For more advanced gum disease with bone loss (periodontitis), you may require a series of conservative periodontal treatments (deep cleanings) in our office to slow down the disease process and maintain health. In more advanced cases, we refer to the Periodontist for bone or gum replacement surgery. Gum Disease is the number one reason people lose their teeth. Prevention requires strict dedication on your part, each day, to keep plaque eliminated with brushing and flossing. Also, it requires frequent re-care visits for the rest of your life to prevent reoccurrence.
---
Related Periodontal (Gum) Disease Articles
The Link Between Heart & Gum Diseases
Inflammation has emerged as a factor that is involved in the process of Cardiovascular Disease (CVD), which commonly results in heart attacks and strokes. While the precise role inflammation plays in causing chronic CVD remains an area of intense current investigation, much more is now known. The good news is that, based on current research, we know that if we can reduce the inflammation caused by periodontal disease, we can reduce the risk for heart attacks and strokes... Read Article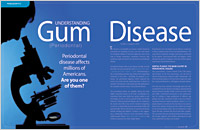 Understanding Gum (Periodontal) Disease
Have your gums ever bled when you brushed or flossed? This most commonly overlooked simple sign may be the start of silent (periodontal) disease leading to tooth loss. Learn what you can do to prevent this problem and keep your teeth for life... Read Article
Diabetes & Periodontal Disease
Diabetes and periodontal disease are chronic inflammatory diseases that impact the health of millions of people. What you may not know is that diabetes and periodontal disease can adversely affect each other... Read Article
Warning Signs of Periodontal (Gum) Disease
This article provides the warning signs of periodontal (gum) disease. Don't wait until it's too late... Read Article