Examination
Examinations can be limited or comprehensive depending on your circumstances.

Limited exam is generally for emergency or screening purposes to get acquainted and decide on limited treatment or to move to comprehensive exam for long-term care.

Comprehensive exam is a thorough gathering of data to provide our team the information needed to determine the BEST treatment plan options for your specific situation. With the use of the latest technology like digital x-ray, intra-oral cameras, and clinical computers we are able to detect problems early AND you get to see what we see. No more wondering what or why.

This exam may include x-rays, oral cancer screening, gum disease analysis, TMJ screening, assessment of existing fillings and restorations, cavity detection, bite analysis, smile analysis, tooth color analysis, photographic series, intra-oral camera previews, or models with diagnostic wax-up. All of these are carefully considered for your specific treatment plan to meet your specific needs and desires.

Comprehensive exams extends BEYOND the here and now, planning for lasting results and proper maintenance. With a focus on preventing dental disease like cavities, gum disease, and wearing down of enamal, we hope to save you time and money over your lifetime. Treatment plans are written with the goal of keeping your teeth healthy for a lifetime. Diagnostic tests or records are ordered according to your specific needs.
CALL BEYOND DENTAL TODAY 256-739-8600
---
Related Oral Health Articles
Dentistry and Oral Health for Children
As part of our special section on oral health topics affecting kids, Dear Doctor brings you this wide-ranging overview of milestones and transitions in your child's dental development. Learn how to protect your children from tooth decay, dental injuries, and unhealthy habits while getting them started on the road to a lifetime of oral health and general well-being... Read Article
Nutrition & Oral Health
Oral health is a huge part of our general health. In Part I of this important series, we will focus on diet as it relates to dental/oral health. Learn new important facts about sugars — the good and the bad; fluorides; tooth erosion by acids; and more... Read Article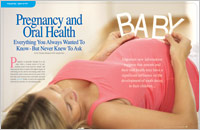 Pregnancy & Oral Health
Pregnancy is generally thought of as the time when a woman strives to be particularly aware of the need for "health". Many women though may not be aware of the link that exists between their oral health and their systemic (general) health, as well as the impact that many other factors can have on a developing child. Learn about how to care for yourself and your baby... Read Article